Rinnai Tankless Solutions Give You The Power To Live Better
An endless supply of hot water, whenever you need it—even for multiple tasks at the same time. Tankless Water Heaters revolutionize comfort, energy efficiency and convenience.
Tankless Technology That Saves You Time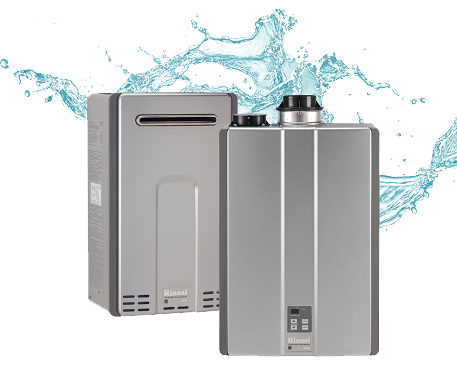 Never think about your hot water needs again: Innovative technology provides an endless supply of hot water whenever and wherever it's needed – even for simultaneous uses at multiple fixtures. Showers and baths? Absolutely. Laundry and dishes? No problem. Prioritizing activities and scheduling hot water use is a thing of the past.
Save Money, Splurge On Performance
Designed for efficiency: Rinnai's tankless technology features copper heat exchangers to provide maximum efficiency and uses up to 40 percent less energy* than a traditional tank.
Save energy: By operating only when hot water is needed, and no storage tank to heat and reheat water, our tankless technology helps save on energy and utility costs. The use of an electronic ignition means no standing pilot light that constantly uses energy.
A smart investment: Increase your home's value with premium technology, increased energy efficiency, an improved Home Energy Rating System (HERS) Index Score and optimized LEED certification. Available energy efficiency rebates and tax credits offer the opportunity to help make your purchases more affordable.
Multiple sizes: Rinnai gives you options to right-size your installation and customize your efficiency.
Replace parts, not systems: Every part of a Rinnai Tankless Water Heater is replaceable. Components can be easily exchanged, if needed, versus replacing the entire system.

Save Space With A Compact Design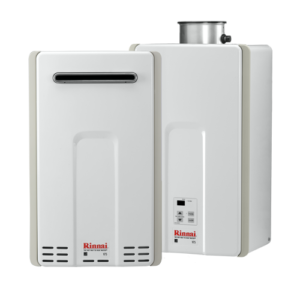 Maximum output, minimum space: About the size of a small suitcase at 18.5" x 26" x 10" or smaller, these wall-mounted models can be installed on interior or exterior walls and in compact spaces to free up valuable space.
Flexible installation: Small size allows for installation in non-traditional spaces such as crawl spaces and attics, making it perfect for use in any size home, including manufactured and modular homes.
Stay Green With A Sustainable Choice
Earth-friendly efficiency: Our tankless technology achieves maximum energy efficiency, helping to conserve natural resources.
Less waste: Compact heat exchanger design, longer product lifespan up to twice as long as a traditional tank** and recyclable parts means less waste in landfills.
High standards for low emissions: Lower CO2 emissions contribute to cleaner air and a healthier environment.

---
Rinnai Hybrid Tank-Tankless Water Heater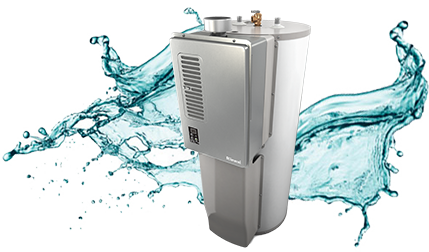 DON'T JUST MEET YOUR HOT WATER NEEDS. EXCEED THEM.
The new Rinnai RH180 Hybrid Tank-Tankless Water Heater was built to do the remarkable. With more hot water and less recovery time than a traditional tank water heater, you'll experience the remarkable!
Enjoy Hot Water at Your Pace
With a busy life, you need every advantage you can get. Because the Rinnai RH180 Hybrid Tank-Tankless Water Heater replenishes its hot water supply much more quickly than a traditional tank water heater, it puts time on your side.
Imagine your entire family taking back-to-back showers and never running out of hot water! If utilizing simultaneous hot water fixtures results in your hot water supply depleting, a Rinnai RH180 Hybrid Tank-Tankless Water Heater will replenish your hot water supply more than twice as fast as a 40-gallon traditional tank water heater.*
*Based on internal Rinnai testing.
Simplify Your Life
The Rinnai RH180 Hybrid Tank-Tankless Water Heater makes life simpler by giving you more hot water to meet your daily hot water needs. Without even realizing it, many of us fall into a routine of planning our lives around hot water. Baths, showers, laundry and running the dishwasher become scheduled events based on hot water availability, instead of when we really want it.
In fact, hot water usage becomes such a habit over the years that we just accept it as part of life. But it doesn't have to be. The innovative design of the Rinnai RH180 Hybrid Tank-Tankless Water Heater combines the on-demand heating technology of a tankless water heater with an efficient storage tank. The result? The hot water you need flows right into your daily schedule. It's that simple.

A Convenient, Fast Upgrade
It's not complicated to get the comfort you want. In fact, the Rinnai RH180 Hybrid Tank- Tankless Water Heater installs like a traditional tank-style water heater using a 1⁄2" gas line, standard water connections and 4" B-Vent, or can be common vented with a furnace.
In other words, it's an ideal upgrade opportunity that lets you enjoy increased hot water capacity without reconfiguring your setup. As a simple job your installer can do, it's perfect for both home remodeling and emergency replacement situations.
Rh180 Hybrid Tank-Tankless Water Heater Advantages
Advanced tankless technology heats water quickly and provides more hot water, saving you valuable time and simplifying your life.

Replenishes hot water faster so you'll get more out of every day.

Standard tank connections mean quick and easy installation, making it perfect for emergency replacement and home remodeling.

Controller with diagnostic capabilities makes it simple to operate.

Easy parts and service accessibility for fast repairs.
Ready for your next HVAC project?
Our professional technicians and trained staff are ready to help. Start by getting a quote today!
Current Promo: 24 Month 0% Equal Payment Plan*
$39.95 Activation Fee Required